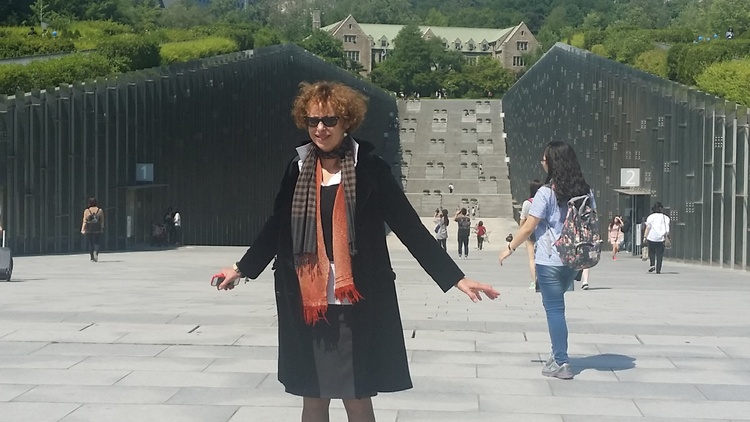 I knew about the reputation of Ewha Womans University even before I arrived in Seoul, and long before reaching its campus. After the fascinating interaction with the students at Yonsei University (ranked number 2 in the country), meeting with the students at Ewha is another type of challenge. Also located in Sinchon, it is the oldest womans university in the world (1886), and it reached excellence, steadily, step by step, until it became a "global hub for women education and intellectual exchange" in 2010. This piece of information was already enough to trigger my interest for the place: after living 15 years in the US, I came to understand the power of women education, especially around places such as Smith or Wellesley College, where I happened to lecture. I especially remember being mesmerized by Jill Ker Conway's magnificent autobiography The Road from Coorain and by a conference she gave at New York Public Library in the late nineteen nineties: presenting herself as "a born risk-taker", she described her years as first woman President of Smith College (1975-1985) in a truly charismatic way, mentioning her mandate as a "rarely experienced relationship of woman leader and idealistic young followers." I always wondered why Ker Conway's activist model influenced me so deeply –more let's say than Simone de Beauvoir's: was it because she overcame the challenge of being born in a remote Australian background into creating, step by step, her own forceful leadership in the US? Or because she managed to express her extremely radical statements -equally dimissing "honorary male scholars", "lady scholars" or traditional faculty groups that she labeled "the dinosaurs"- in the most soft-spoken and elegant voice? We don't have any such higher education option in France, and I always wondered whether it might not be one of the reasons why it took so long to reach parity in our institutions.
http://www.ft.com/intl/cms/s/0/f3592268-9cc3-11e4-971b-00144feabdc0.html#axzz3e9aLFvxy
We arrive at Ewha around 2 pm with a glorious weather. Walking into a campus is always a first opportunity to test the feeling of an institution. How to resist the architectural virtuosity that I see around me? I walk into a valley of glass and steel that Dominique Perrault carved within a hill in 2008. In a bold move, the architect opted for slicing part of the hill, thus creating a "campus valley" traffic zone, and erecting buildings on the sides -as the two-halfs of a sliced pyramid. I can't help thinking of the miserable Nanterre campus which, in 1968, bore so few equipment for the growing number students which flocked to study in it: it was a tragically devastated land in the western suburbs of Paris, among the slums, and the implicit message was straight and clear: as the younger generation, we were not fully welcomed into our own society, which was then ruled by a 78 year-old president, on top of it all, a general, whose name was Charles de Gaulle. Here, at Ewha, it feels like walking right into the twenty-first century. Inside the buildings, a whole city seems to be thriving with restaurants, banks, cinemas, libraries, working spaces, conference rooms. Everywhere, young women at work. But why is the South Korean education system so universally praised, even if sometimes its hierarchical system has been criticized for preventing innovation and creativity ? As my friend Terri Kim explains in one of her articles, one of the reason is that the South Korean universities found a very pragmatic approach to internationalisation and transnational academic mobility, especially by "hiring a high number of foreign and especially US-educated academic faculty members."
https://www.academia.edu/901315/Higher_Education_Reforms_In_South_Korea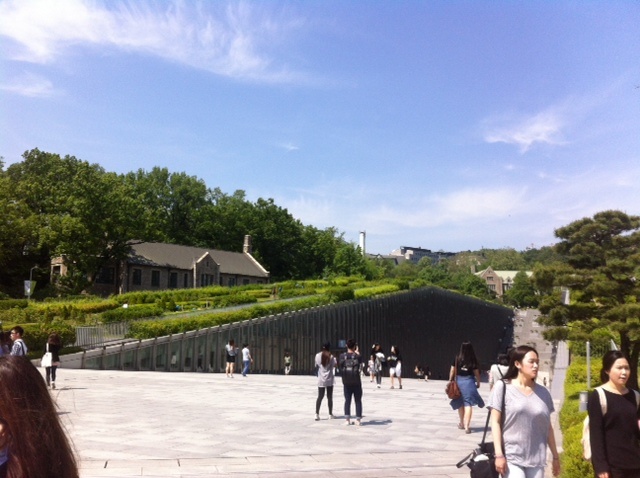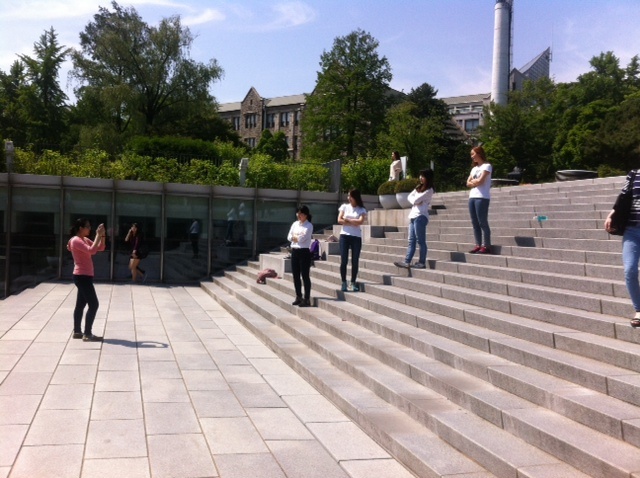 Walking back to Case Hall (in the Graduate school building), where my lecture will take place, I am struck by the many posters announcing Looking for Viviane Maier, the documentary that I so much liked because, through the story of this brilliant baby-sitter hiding her passion and genius for photography, one discovers a dramatic description of the Midwest during the fifties and sixties in the US –another document that one should add to the syllabus of any seminar on US cultural history! Half an hour before the lecture, Case Hall is totally empty : what an impressive space, with its high stage, its organ, its elegant lights ! Professor Hyesun Lee who welcomes me is teaching design, her English is perfect and she strikes me as a very intense and sophisticated person. I turn around after a while and, as if by magic, I notice that the hall has filled up within a few minutes with a very different crowd from Yonsei University. My publisher has arrived, as well as Soo-Bok and Marvin who step on stage with me. This place is very dear to them : that's where they met, where they courted, where they married.
At Ewha University, with Professor Hyesun Lee, who invited me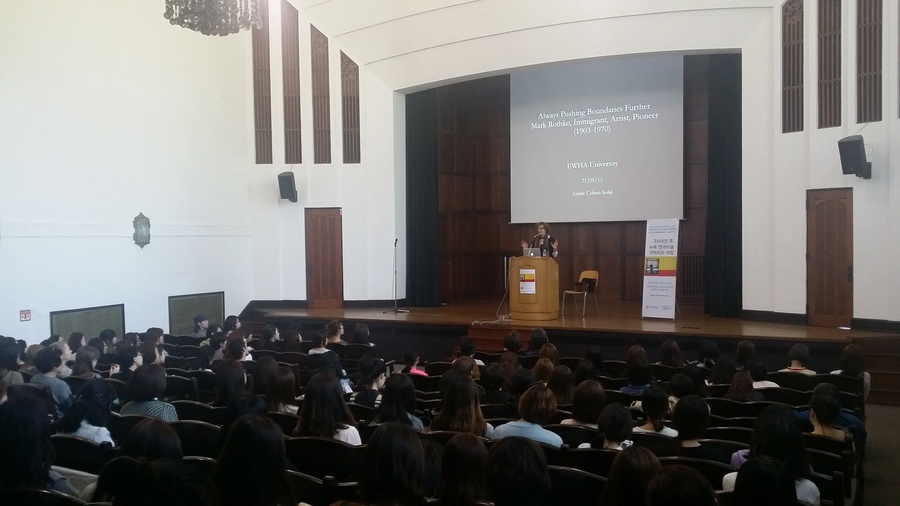 The questions raised by the lecture are numerous and interesting ; I especially remember that of editor Suzy Chung whom I'll instantly become very friendly with. She later told me that she rushed from Tokyo in order to attend the talk and her judgement on the Rothko show at the Hangaram Arts Center is similar to mine… I think that Jill Ker Conway would have loved the interaction with the students and the teachers that is just taking place! As was the case at Yonsei, here too, I am given a beautiful present by Hyesun : it is a precious ceramic pot in a very delicate jade (blue green) color -a Goryeo celadon-, produced in the best tradition of Korean ceramics. What a coincidence ! It immediately reminds me of the Korean ceramic tradition in St-Ives Colony (Cornwall, UK) where in summer 1959, Rothko spent a decisive month. It is there that, in 1920, British artist Bernard Leach together with Japanese craftsman Shoji Hamada decided to build an ancient ceramic oven a [noborigama], imported from Korea to Japan by way of China in the 5th century! This workshop gradually became one of the most famous ceramic studios in the world, transforming this remote corner of the island of Great Britain into a hub of intercultural experimentation between East and West. Furthermore, Leach and Hamada had based their principles on the conviction that through work with simple, useful ceramics, following the ancient principles of the East, they could initiate a new lifestyle integrating design, art and craftsmanship, and so bridge the gap between Western and Eastern philosophy.
My friend, Dr. Miran CHANG (장미란, going back to Ewha, her Alma Mater with much affection
Later in the evening, while driving back to the hotel, I will catch a few more glimpses of Korean culture -a blurred mixture of elegance, colored lights, economic miracle.