On my first evening on the island, the sky turned into a Rothko painting. At the Chilmark Library, the next day, after I presented Mark Rothko as an immigrant, an artist and a pioneer, I couldn't help mentioning that uncanny coincidence. With a hand-written poster on the road outside the grey shingle building and large bunches of country flowers everywhere, the Chilmark Library reminds me of rural Ireland. It is the second time that its director, Ebba Hierta suggests I discuss one of my books, and that my friend Monina offers to have me stay in Aquinah. Five years ago, when my visit lasted for less than 24 hours, the whole experience remained a little frustrating. Now, arriving on the island for a few days, I'm trying to take on board the different elements that always triggered my curiosity about this place. So much has been written on Martha's Vineyard and I've never been a fan of stereotypes.
In fact, my own mythology about the Vineyard started when I first read the magnificent fieldwork in sociolinguistics that William Labov conducted between Menemsha and Oak Bluffs, Gay Head and Edgartown, among local Portuguese, Yankees and native Wampanoag Indians. The year was 1961. I always considered « The Social History of a Sound Change on the Island of Martha's Vineyard, Massachussets » (his MA essay at Columbia University), as a poem of initiation. In fact, it fueled my passion for sociology. I remember vividly how Labov described the original community made up of 6000 native Vineyarders, supplemented by 42 000 summer residents in June and July. I was fascinated by the way he managed to show the complexity of linguistic changes on the island –mainly how the « centralization of the vowel /…/ emerged as a symbol of social identity » and « as a struggle to maintain local rights and privileges ». I was especially mesmerized by Labov's research techniques. It took the form of back and forth moves -first striving to locate specific concrete phonems through authentic tape recordings, then interpretating them through very elaborated treatments, which required the use of mathematics and physics. I thus came to consider Labov's graphics as true aesthetical documents : they revealed the sociologist's empathy for the locals, as they resisted against the social changes that were going on around them.
Finally, I praised Labov's style for certain sentences which conveyed both the rhythm and the beauty of social science at its best : « The island of Martha's Vineyard, Dukes County, Massachussets, was chosen as a laboratory for an initial investigation of social patterns in linguistic change » or else : « One cannot understand the development of a language change apart from the social life of the community in which it occurs. » I even felt then that, in terms of scientific poetry, only Claude Lévi-Strauss could rival him !
Now, as I drive from up-island to down-island, trying to find my way around, it is with Labov's map in hand -The social motivation of a sound change– that I strive to locate myself topographically, guessing what things looked like fifty-five years ago, at the time of his research. In Menemsha, going with Brigitte Cornand to get lobster meat for our sunday lunch, I wonder whether we are being served by the son or the grandson of Donald Poole. « One of the first people I talked to was Donald Poole, an eighth-generation descendant of Yankee whalers and fishermen » the sociologist wrote. « He was one of the key figures in the little fishing town of Menemsha/…/ It became clear that Poole was a prime exponent of Max Weber's Protestant Ethic, with its strong emphasis on the importance of work as a calling. »
https://www.acls.org/publications/audio/labov/default.aspx?id=4462
Being on Martha's Vineyard right now is an ironic moment for me : I am revisiting the origins of my passion for sociology and, at the same time, I am developing the importance of a sociological approach to art in my lectures on Mark Rothko. But there are still people who need to be convinced and some of them ask : What made you begin thinking about Rothko in terms of his immigrant/outsider status? While these questions and aspects of Mark Rothko's life are interesting, how do they affect your assessment of his importance as an artist? Should they? My answer is simple : although it would be entirely wrong to try to explain the art of the painter through the life he led, one cannot totally exclude the social conditions in which the art has been produced. Very graciously, some people go into a lot of trouble to overcome their hesitations and finally embrace this new approach.
http://www.mvtimes.com/2015/09/23/annie-cohen-solal-on-mark-rothko-toward-the-light-in-the-chapel/
But how to label the specificities of the island ? A utopian community ? An ideal microcosm ? The epitome of a progressive society ? Ecology in progress ? While driving all the way North to meet Monina at Martha's Vineyard Hospital, I am struggling to find the right concept. So I take the wrong way, I find the bridge to Beach Road closed and, of course, I am late ! Monina and Edward have been collecting for years, personally, peacefully, slowly, creating deep bonds with the artists that they like.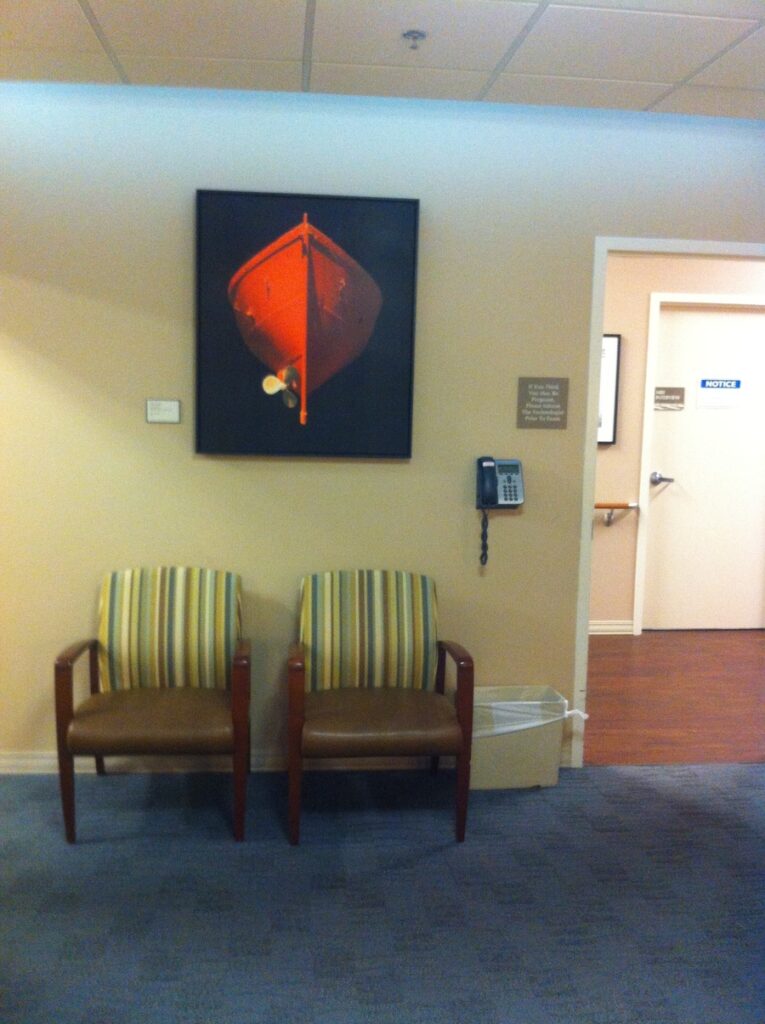 Jeff Serusa: «Orange Boat» 2009 limited edition print on canvas
Monina in front of Jeff Serusa: «Gay Head Light at Night», 2006 Archival giclée print
Five years ago, as the hospital was being renovated, Edward Miller became chairman of the building committee. Soon after, a decision was made to install art in the new institution, and Miller managed to convince his colleagues that, rather than acquiring generic and banal works, the hospital needed to draw on the Island's own artistic talent. He was convinced that art could both serve as a valuable part of the patients' healing process and become a bonus for the artists themselves. Within a few months, Monina managed to convince the majority of the local artists: she gathered an impressive collection of more than 500 pieces to that day.
http://www.mvmagazine.com/news/2013/12/01/art-healing
When I finally visited the hospital with her on this sunny September afternoon, I found the display illuminating. At every corner, in the emergency room, the reception room, the maternity, art reigned supreme: photos in the corridors, paintings in waiting rooms, big colored works at the end of a long hall, creative sculptures in a corner, everything was made in order to attract, to surprise, to enchant the viewer.
Kathy Newman: «Balance», Martha's Vineyard, 2009, C print
It was so strong, so telling that the experience still memerizes me today. And I could not help thinking of Mark Rothko, the educator, the philosopher who, in The Artists's Reality, also spent time thinking about the function of art in a society. Art is not only a form of action. It is a form of social action. For art is a type of communication, and when it enters the environment it produces its effects just as any form of action does. Society benefits every time an artist improves his own adjustment in the world /…/ One minute stimulus can be more far-reaching, can affect the course of society more significantly in a single minute than than a thousand other stimuli /…/ might over a hundred years.
Jill Krementz: «Rose & William Styron», April 29, 1979 Black & white photograph