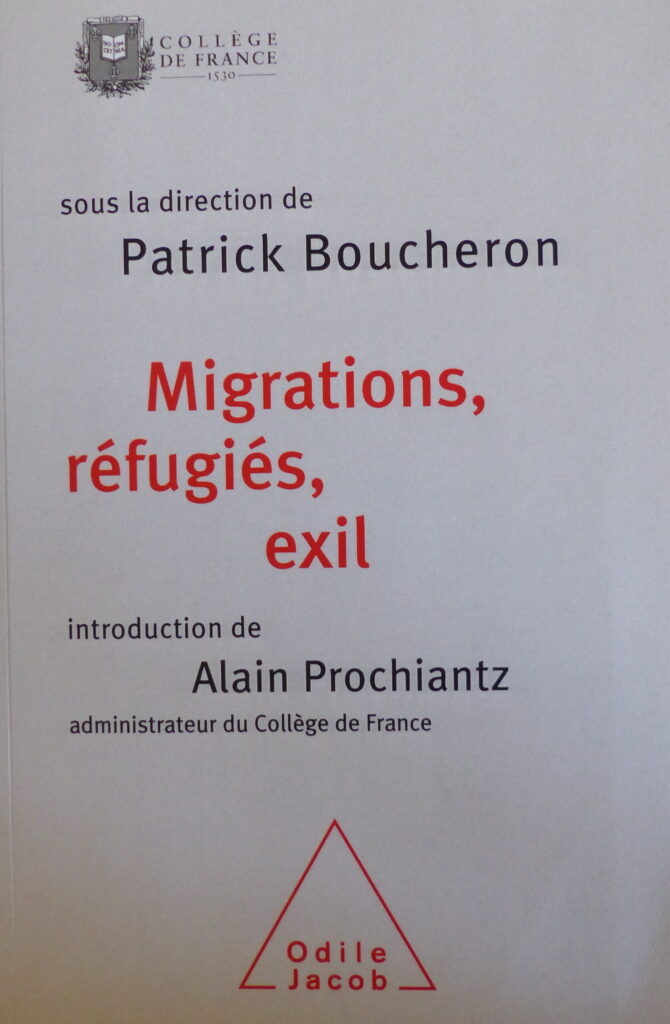 Migrations, réfugiés, exil
(Migrations, refugees, exile)
This book assembles the contributions to the conference that took place at the Collège de France in the autumn of 2016.
Introduced by Alain Prochiantz, administrator of the Collège de France, holder of the chair of Morphogenetic Processes.
With contributions from Michel Agier, Christophe Ayad, Sébastien Balibar, Pierre Briant, Pascal Brice, Dominique Charpin, Dimitris Christopoulos, Annie Cohen-Solal, Diane Dosso, François-Xavier Fauvelle, Peter Harling, François Héran, Jean-Jacques Hublin, Fabienne Lassalle, Danièle Lochak, Leoluca Orlando, Lluis Quintana-Murci, Marie-Caroline Saglio-Yatzimirsky, Ousmane Oumarou Sidibé, Benjamin Stora, Alain Tarrius, Hélène Thiollet, Isabelle Thireau.
"There is one single human species on earth, and this species is migratory. We have been travelling since the dawn of time. Today we are stumbling beneath the burden of our responsibility, for we know that history will judge us for our capacity to resolve the situations of migrants. This book is an appeal for calm, an attempt to present a realistic description.
There are estimated to be 244 million migrants in the world at present, of whom 100 million have been forced to migrate. Europe is a continent of immigration, just like the United States. This is the reality. In general, we often contrast lofty principles and harsh realities. This book tackles reality head-on. What does it demand of us? Consideration. "
Patrick Boucheron, historian and professor at the Collège de France, chair of the history of power in Western Europe from the twelfth to the twenty-first century.
Éditions Odile Jacob
Collection Travaux du Collège de France
2012
145 x 220 mm
416 pages
ISBN: 9782738139894