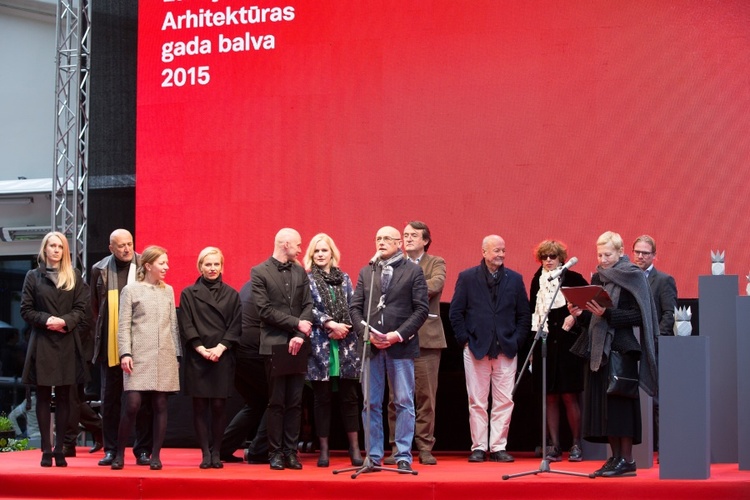 When I was invited by architect Zaiga Gaile to join the jury of the 2015 Architecture Awards in Latvia that she would be presiding, I had no idea that it would turn out to be one of the most interesting and intense experience of these last months. I had met Zaiga two years ago, when I first travelled to Latvia for the opening of the Mark Rothko Center in Daugavpils. Daugavpils –it was called Dvinsk where Rothko was born there in 1903 when it was still the Russian empire-, is the second biggest city of the country, in the southern province of Latgale, close to the Lithuanian border, that you reach after a long bus ride from Riga. It was a very moving ceremonywhen Kate and Christopher Rothko, the artist's children, lent 8 works of art to this place which did not seem to be a centre of cultural crossroads. Since then, I travelled back to Latvia many times and, thank to my friends such as Karina Petersone, I was introduced to some of the many complexities of this unbelievably beautiful country of 2 million people, filled with lakes, rivers, storks and birds of all kinds…
Now, after spending with my colleagues of the jury a whole week crisscrossing Mark Rothko's territory and discovering its most remote corners, after analyzing many buildings and agonizing in jury deliberations, I must say that I have been deeply impressed by the high level of architecture and craftmanship that can be found in Latvia. Arthur Analts and Rudolph Strelis, for example, the two young engineers who invented and designed the new trophee that we gave out as the award, are devoted, driven, talented, and you feel that nothing could stop them! In less than a month, with their team at VARIANT, they conceived this 3 kilos Rubix cube in the shape of a silver or golden pineapple, using a numeric milling machine in 3 dimensions, having it produced in five different factories in the country, and even travelling to Lithuania on the morning of our ceremony to have it polished! Edgar Zvirgzdins, the design director of the Architecture Awards Ceremony is as efficient and convincing, with the same spirit of entrepreneurship, and I can't wait to organize a project with him.
Everywhere throughout the country, the same creativity and the same energy is palpable. In Rezekne, part of the Latgale province where Mark Rothko was born, a new University of Engineering was built in a few months, with a building which managed to create an attractive learning environment in a beautiful sequence of places, notwithstanding its limited budget. This building is the first step in creating a genuine sense of place in a university campus currently surrounded by aging soviet era apartment blocks, while being carefully related in scale to the adjacent historic buldling form the nineteen twenties. The laboratories spaces incorporate the latest in technology and the building as a whole, equiped with reading rooms, libraries and other functions, will establish the University of Rezekne as a true model in the field of Engineering education. I was very happy to give the award to architect Juris Mitenbergs and to hope that many more brilliant Latvian engineers will rise in the years to come.
The situation is not that easy in Latgale, though, because it is a province populated by a majority of Russian speakers. Latvia became an independent country in 1920, but it soon suffered during the Soviet era. Now, it has been independent again only for 20 years and already again the ghost of Ukraine is threatening everyone. Germans, Poles, Russians have all been occupying the country and the Latvian national identity is faintly emerging. Therefore, in this context, it is sometimes tricky to know who should claim Rothko's heritage, because he left the Russian Empire in 1913 (before the country was Latvia) and never came back. Should his paintings travel from Daugavpils to Riga some time? It seems to be a very sensitive topic. I sort of alluded to it in my presentation on Friday in Riga, showed pictures from the beautiful light on the Daugava river that Rothko grew up with and from the streets if his native city.
Before we left the country, I needed to go back to the latest of my friend Zaiga's realization: the sublime Zanis Lipke Memorial, dedicated to one of the Justs in Latvia, Zanis Lipke, a docker who saved many Jews from the nazis. This Memorial is simply the most sensitive, silent and poignant testimony to courage, dedication and humility during the war. It has been conceived with Maris Gatlis (Zaiga's husband) raising the funds privately: talent and commitment combined with generosity, such are my Latvian friends, whom I met thanks to Mark Rothko