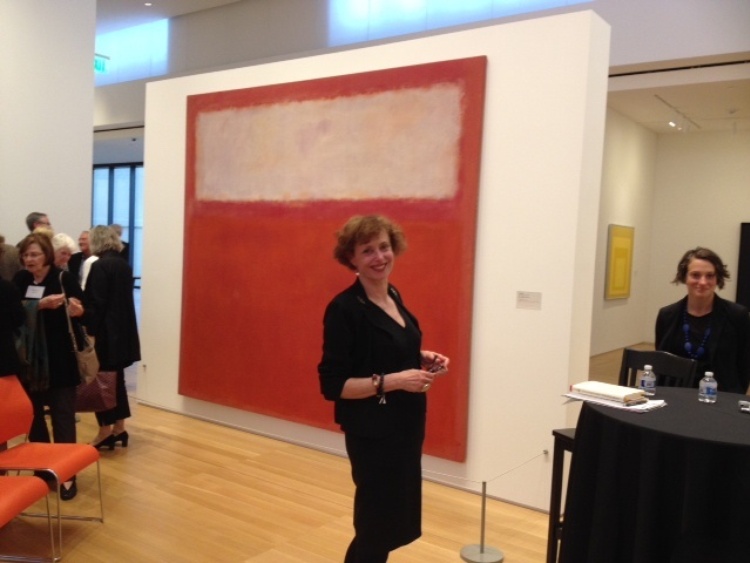 A book tour offers great opportunities to enrich the book that is being presented. How challenging to listen to readers, public, journalists, curators who illuminate the text with their comments, questions and interpretations! Such was the case when I first presented Sartre in Montreal. I got to understand that, in the Quebec of the nineteen sixties, the philosopher's books played the role of genuine tools against the Catholic church and the British establishment, in the mind of so many young intellectuals; from this true episode in sociology of reception, I wrote a travelog for Le Nouvel Observateur which in turn became a whole chapter in the Que sais-je that I was commissioned in 2005, on the occasion of Sartre's centenial.
Travelling with Mark Rothko has been way more interesting that I had ever imagined. The first treat was those marvelous paintings that I had not seen in real life yet, and which sort of carry the artist's voice, the artists's memory with them: their date, their color, their size, their vibration is commentary on the period that Rothko is confronting. I have a few favorites, such as this orange one, in Bob Meyerhoff's collection, which echoes an Ellsworth Kelly piece, just behind it, in another room.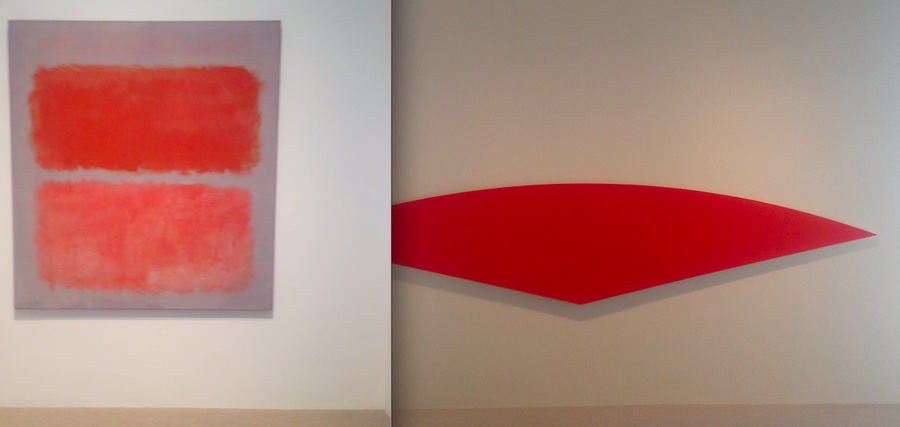 I was also mesmerized by Pink and White over Red from 1957 in a very big format (105 x 116 inches or else 2,60 x 3,00 meters). It belongs to the Anderson Collection, on the Stanford campus, where I spoke in a conversation with Connie Woolf for a group of collectors, including the Anderson family, just in front of the painting – a very daunting experience. "Works of art live many lives", historian Neil Harris once wrote about Seurat's La Grande Jatte at the Chicago Art Institute. I thought about the many lives of Pink and White over Red when I walked up the very spacious stairs of the museum facing Clyfford Still's majestuous 1957-J No. 1 (PH-142). I thought about the many lives of Pink and White over Red when I discussed Rothko's friendship with Still in the years 1943-1947, and their mutual influence when they worked so close to each other in San Francisco. "What was there about last summer which seems now to have been so magical?" Rothko wrote back from New York, after teaching a whole summer at the California School of Fine Arts. San Francisco "is unspeakably beautiful & the weather perfect." I thought about the many lives of Pink and White over Red when reading Rothko's praise of the city and when I commented on the artist incessant shuttling between New York and somewhere else. Definitely, San Francisco always remained a nurturing utopia in the life of Mark Rothko, against New York that he once described as a city of "shop-keeping mentalities."
"Go & see the Harvard Murals at 3:30 pm, and be sure to be there when they turn the lights off", Harry Cooper, the curator of contemporary art at the National Gallery, had warned me with a cryptic message. I did go to the Harvard Museums with my friend Larissa Buchholz at 3:30 pm to see the exhibition of Rothko's Harvard Murals that opened last November. Produced in 1962, for the Holyoke Center, they have a sad history: their color faded, their location proved to be the wrong place, and they were put in storage for too long. But a new digital technology brought out by computer specialists at MIT was able to restaure their original color by projecting light a few hours a day on the damaged places and by compensating the loss. But what a mesmerizing moment when at 4 pm, one by one, the lights are turned off, and when, one by one, each panel fades away! During the last decade of his life, Rothko shifted to an entirely new phase: he got interested with issues of light, of reflectance, of interaction with the public. It is precisely during this period, in the sixties, that he produced the Harvard Murals. But it is today that, through the talent of the digital technology experts, Rothko's preoccupation with light is reaching out to us again.